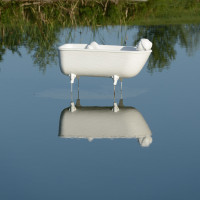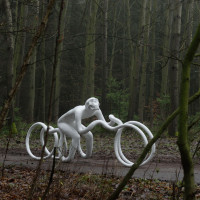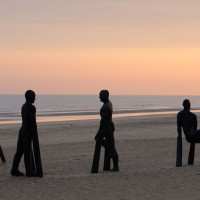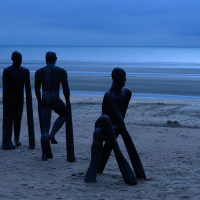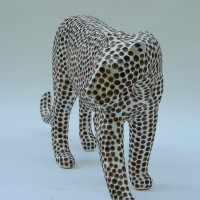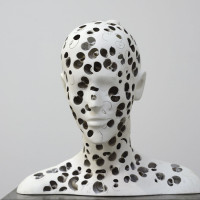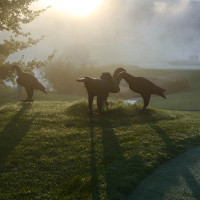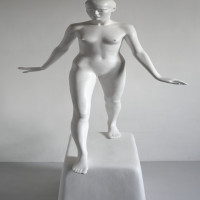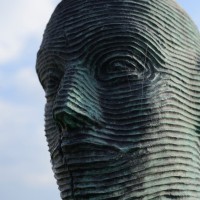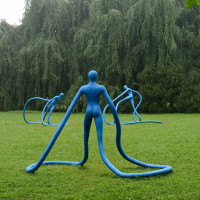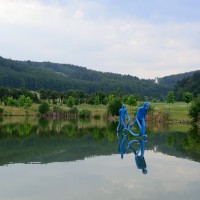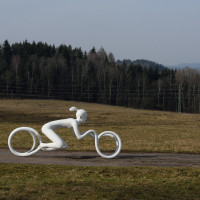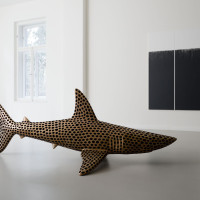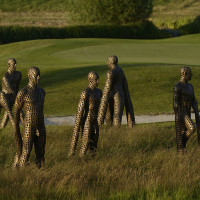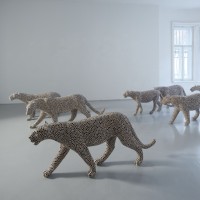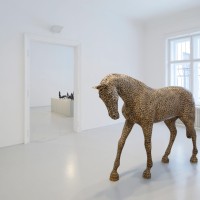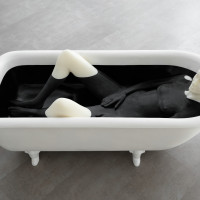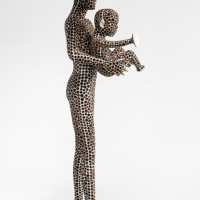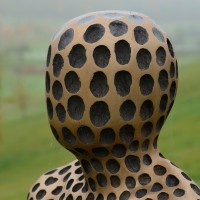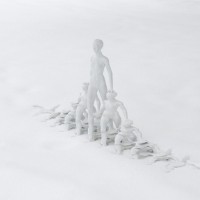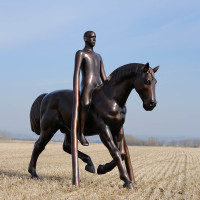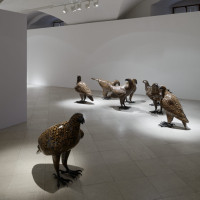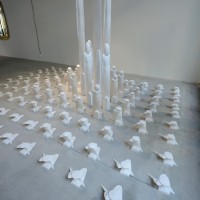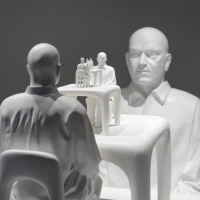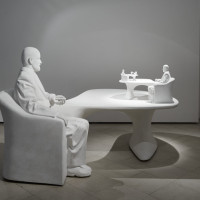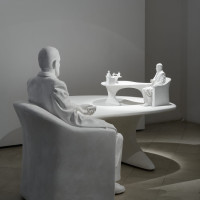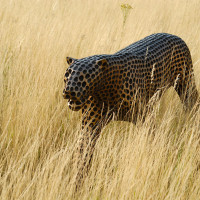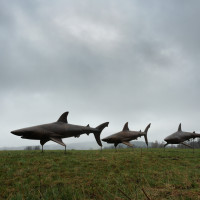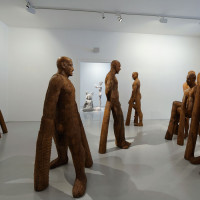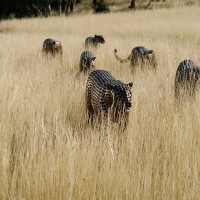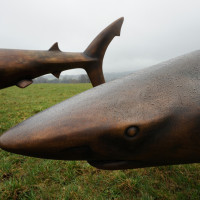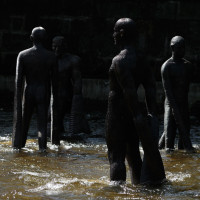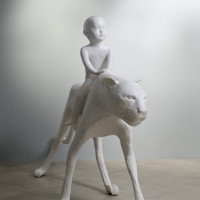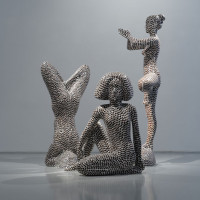 MICHAL GABRIEL ON THE FACULTY OF THE FINE ARTS VUT BRNO
Michal Gabriel, was born in Prague in 1960, he graduated and in the second half of the 1980s. years there and pushed It in the Group and individually. In Prague, lives, works, is there represented in collections and public realizations. In Brno had its collectors and out came a call to action for young art school. The sculpture Studio, expanding the garden in a quiet corner near the fairground, keep Michal Gabriel, even in moments when he got the offer to similar action in traditional art school in Prague. The reason for this voluntary action on first single artistic faculty, in the shadow of traditional art schools, was the founding generation of educators acknowledge the uniqueness, nezatí­ženosti history and uncertain, while completely open future. This potential Michal Gabriel as the teacher takes full advantage of.
Since 1998 is the head, now Professor of sculpture, Studio 1, the field of fine art, sculpture, creation of the Faculty of fine arts of Brno University of technology. The Studio of Sculpture 1 Atelier was founded together with the sculpture 2 (prof. Jan Ambrůz), by developing the original sculpture Studio, which was founded in 1993 by Professor. Vladimí­r Preclí­k. Its predecessor was the Department of drawing and modeling of the Faculty of architecture of the TECHNICAL UNIVERSITY, founded in the 1940s. years, Vincent Makovským. Studio of prof. Gabriela deals in accordance with its focus mainly figurative and figural creation, its deployed is significant in recent years, the use of digital technology for the purposeful creation of spatial.
Successful is the pedagogical influence of Michal Gabriel at the Faculty of fine arts, including the Faculty of management in the function of Dean (2007-2011). Teaching Gabriel's Studio retains the traditional time to some extent structure. A "preparatory course" can be considered the mastery of traditional sculptural modelling problems heads and figures, in parallel with teaching Studio technology from traditional to digital. The atelier of Michal Gabriela works as an independent organism family type, that his head be governed by his charisma, but does not hesitate to support the creative impulses of its students and make use of their generational experience with new digital technologies. Teachers and students more cooperation continues even after graduating from school, sometimes in natural competition. Gabriel pupils apply as sculptors, sometimes affiliating to the offices of the teams. They are also sought out as artistically crafted by skilled and disciplined and educated teachers.
BIOGRAPHY
| | |
| --- | --- |
| born | 25.2.1960 |
| 1978-82 | High School of applied arts Prague |
| 1980-87 | Academy of fine arts, Prague-sculpture |
| 1987 | founding member of the art group |
| 1995 | He received the jindřich chalupecký Prize |
| 1998 | comes to the place of the head of the Studio of sculpture at FaVU VUT Brno |
| 2001 | habilitován associate professor at the school of applied arts in Prague |
| 2007 | elected Dean FaVU VUT Brno |
| 2009 | appointed Professor of |
REPRESENTATION IN COLLECTIONS
National Gallery in Prague
Aleš South-Bohemian Gallery, Hluboká nad Vltavou
Museum of art Olomouc
Gallery of modern art in Hradec Králové
private collections at home and abroad
SOLO EXHIBITIONS (selection)
| | |
| --- | --- |
| 1988 | Sculptural work, Gallery on its perch, Brno, curator Karel Tutsch |
| 1989 | Sculptural creation (with Peter Brewer and Erika Pardubice), District Museum, Český Krumlov, the curator of the Paul F Z |
| 1991 | Sculptural work, Gallery the painted House, Třebí­č |
| 1991 | The sentence in the space gallery of the Pi-Pi-Art, Prague, curator Milena Slavická |
| 1992 | The Sculptures, Galerie MXM, Prague |
| 1993 | The Sculptures, Galerie Aspect, Brno |
| 1993 | Sculptural creation, Galerie MXM, Prague |
| 1994 | Michal Gabriel-statues, Martin Mainer-images, Alter botanischen Garten, Pavilion, Munich, Germany, curator Inge Lindemann |
| 1994 | Rožnovská sculptural summer (with Jiří­ Plieštikem and Stefan Milkovem), Gallery of the city library, Rožnov pod Radhoštěm, curated by Aleš Žanta |
| 1994 | New trends (with Peter Pí­saří­kem and Peter Lysáčkem), Museum curator, Paul Teglová |
| 1994 | Sculptures, paintings and works on paper (with Igor Minaří­k and Petr Veselý), Sovinec Castle, curator Petr Nedoma |
| 1995 | The sculptures, Gallery. m. Prague-Old Town Hall, Prague, curated by Olga Small |
| 1995 | Bronze, Centre of culture and education, Moravská Ostrava and Pří­voz, curator of the Milan Weber |
| 1995 | Jindřich chalupecký Award ' 94, Václav Å pála Gallery, Prague, curator Isikeli Nešlehová |
| 1995 | Michal Gabriel-Stanislav Libenský and Jaroslava Brychtová, Hall under the Plečnik staircase, the garden of Eden to the Prague Castle, Prague, the organizer of the Freedom Foundation |
| 1996/7 | Michal Gabriel and Vladimir Kokolia, exhibition hall, Emil Filla, ústí­ nad Labem, the organizers of the Union of fine artists and Soros Center |
| 1997 | The sculptures, Gallery Die Aktualití¤t des Schí¶nen…, Liberec, curator Zdeněk Primus |
| 1997 | The sculptures, animation (Josef Fun), Galerie MXM, Prague |
| 1998 | Michal Gabriel and Vladimir Kokolia, exhibition hall, Emil Filla, ústí­ nad Labem, curators, Petr Svoboda and Michal Koleček |
| 1998 | Statues (Stefan Milkovem), Sirius Gallery Design, Prague |
| Â 1998 | The sculptures, animation (Josef Fun), Gallery Caesar, Olomouc, Miroslav curator Schubert |
| Â 2000 | Sculptures-paintings (with John Mertou), Municipal Gallery of Malostranská beseda, Prague |
| Â 2000 | With a light, a small Gallery of Václav Å pála, Prague, curated by Jaroslav Krbusek |
| Â 2002 | Sculptures-images (public Gabrielovou), Gallery 8A, Brno |
| Â 2003/4 | Michal Gabriel-Barbora Å lapetová, Rittstein-Galerie Tvrdohlaví­, Prague, Lucerna Palace |
| Â 2004 | Michal Gabriel-Tomáš Medek, ARS Gallery, Brno, curator of Josef Chloupek |
| Â 2004 | The sculptures, Gallery of modern art, Hradec Králové, curator Thomas Fish |
| Â 2004/5 | The lizard, the regional scientific library-Spacium, Liberec, curator of the Ivona Raimanová |
| Â 2006 | The sculpture, the Gallery of the city of Plzeň, Plzeň, curator Václav Raspberry |
| Â 2006 | The Garden, The Gallery Via Art, Prague |
| Â 2006 | Gabriel & Casua Atelier (Statues & architecture), the Gallery of Chodov stronghold, Prague, curated by Martina Pachmanová |
| Â 2007 | Gabriel & Casua Atelier (Statues & architecture), Gallery Medium, Bratislava |
| Â 2007 | Sculpture 2, Sovinec Castle in Bruntál-Museum |
| Â 2007 | Sculpture 3, Blansko town Gallery, Blansko |
| Â 2007 | Michal Gabriel-statues, Castle in bystřice pod Hostýnem |
| Â 2008 | Michal Gabriel-sculpture, ARS Gallery, Brno |
| Â 2008 | Michal Gabriel Sculpture 5, Galeria m. a. Bazovského in Trencin, curator Ellen Porubanová |
| Â 2009 | Dreming, boiler room Karlin Gallery, m. Gabriel-sculptures, j. Macht-photography |
| Â 2009 | Michal Gabriel Súsošia 6. LGPMB-liptovská galeria Peter Michael bohuňa in liptovskom Mikulas, curator Ellen Porubanová |
| Â 2009 | Michal Gabriel Sculptures, exhibition hall of the Synagogue, Hranice na Moravě, curator of the Msc. Renata Skřebská |
| Â 2009 | Michal Gabriel Statues, Gallery Chapel, Valašské Meziří­čí­ |
| Â 2010 | Michal Gabriel Statues, Artpro galleys, Prague |
| Â 2010 | Michal Gabriel, Gallery Of The City Of Trutnov |
| Â 2010 | Players on the waterfront, exterior exposure on the waterfront in Trutnov |
| Â 2010 | Michal Gabriel, sculptures, Gallery in the attic, Vrchlabí­ |
| Â 2010 | Michal Gabriel-Sculptures, galerie ASPECT of Brno |
| Â 2011 | Michal Gabriel-Sculpture-Exhibition Hall, Sokol, 26, Ostrava |
| Â 2011 | Statues on the golf course, Cascade 1 Jinačovice u Brna |
| Â 2011/12 | The sculptures, the exhibition in the Gallery of the Mona Lisa in Olomouc |
| | Michal Gabriel sculptures, Stables Gallery in Lipniku n. (B). |
| | Pastoralists, the cheetahs exhibition of sculptures in the Paddock in the Prague ZOO cheetahs |
| | The sculptures on the golf course at the BrnaSochy cascade 2 Jinačovice, Galerie Aspect |